Hale Kamaole Overview
Hale Kamaole, located right on South Kihei Rd. It's got a great green belt right between the two buildings. It's 188 units. It sits on about seven acres of land and it's got two pools. Also, there is a tennis court.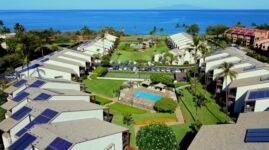 Construction
It's an older complex. Was built in 1974, but I have to tell you, it is one of the most charming little properties. This is a vacation rentable or Airbnb property. They are all two and three story buildings. There's five of them total. The three story buildings have elevators. The upstairs units are two bedrooms with lofts. And some people have in the past built and extended the lofts to create more space and create some three bedrooms. Now those are grandfathered in. You really can't do it anymore, but to find one of those is pretty amazing.
Location
It's right across the street from Kamaole Beach Park III. Beautiful, big grassy lawn, great breezes. As you can feel or might hear some of that wind right now, we're shooting this in the afternoon and we get great trade winds here in Maui, another reason why this is probably one of the most perfect places in the world to live. A couple other cool things: you can walk to so many shops and restaurants from this location. You can walk to Wailea, Keawakapu Beach. Kamaole Beach Park I, Beach Park II, and Beach Park III is right across the street. As I mentioned, we've got a tennis court and two great pool areas and each of the pool areas has a barbecue grill, a great place to come and meet your friends, meet your neighbors and make some new friends here in Maui.
For More Information
If you want more information about Hale Kamaole, be sure to send me a text or shoot me an email, tom(at)tomtezak(dotted)com. Or if you just want to pick up the phone and give me a call, 808.280.2055. I'd love to be your resource here in Maui. And finally, remember if you live your life with aloha, your life will be amazing.
You May Also Like: Kamaole Sands
Hale Kamaole Video Link: https://youtu.be/wqvXsIyCRA0