Today we will explore Kamaole Sands right in the heart of South Kihei.
Location
It's right across the street from Kamaole Beach Park III, which is one of the coolest beach parks, because there's a huge grassy lawn that then fronts this beautiful beach, a great place for families and for snorkeling and just chilling out on the beach, so right across the street from this complex.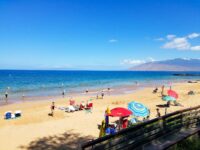 Construction
This complex has 440 units in 10 buildings. They're all four stories. Each building has an elevator. They range inside from one bedroom to three bedrooms. There are:
279 one bedroom units
146 two bedroom units
15 three bedroom units
The three bedrooms truly are coveted properties here in this complex. And the square footage of units goes from about 818 square feet all the way up to 1,625 square feet.
Amenities at Kamaole Sands
Kamaole Sands is really well appointed as its stands. There are four tennis courts, a really nice entry area where vacation rental guests would come in and check in. There is a pool with two hot tubs: one for adults only, and a kiddie pool. Additionally, it's got a beautiful garden area in the middle of the property with beautiful fountains and super pleasant orientation.
Throughout the complex you'll find multiple barbecue grill areas and the community centers. Some of the folks that I know own here love to go to the barbecue areas. It's where they meet all the people and make great new friends.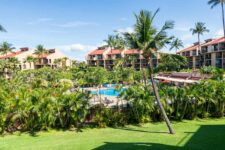 Vacation Rentals
Kam Sands does allow vacation rentals. So you can do your Airbnb. You can rent through a variety of different rental management companies here on the island.
To Book A Rental, check out the Kam Sands Website here: Kamaole Sands | Maui Condo Resort Rentals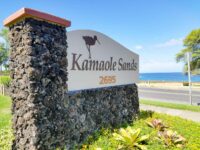 More About Kamaole Sands
Thanks for joining us on the Kamaole Sands tour. If you want more information about this property, then feel free to reach out to me. Give me a call, shoot me a text: 808.280.2055, or send me an email tom(at)tomtezak(dotted)com.
Check out my video series: Condos, Castles, & Cottages! (CCC) Where we explore Maui neighborhoods: Condos, Castles & Cottages: Kamaole Sands
You may also like: Mana Kai | Explore Maui Neighborhoods – Lifestyle Maui Real Estate Team (tomtezak.com)
Finally, I want to remind you to live your life with Aloha and your life will be amazing!