Kihei, Maui
Today's featured property will be Kihei Oceanfront homes. As part of my series, Condos, Castles, & Cottages! I will be showing you the different neighborhoods in Kihei, Maui that are right on the water. Kihei is part of South Maui. South Maui consists of Kihei, Wailea, and Makena.
*Disclaimer: This video was filmed prior to the December 2021 storm and flooding. The images shown are the typical conditions of Maui and Kihei. Maui county is working day and night to clean up the effects of the storm and we hope that the properties shown as well as the rest of Maui will be back to their regular condition soon. For footage of the storm effects, visit: https://mauinow.com/2021/12/07/aerial-reconnaissance-state-of-emergency-proclaimed-for-maui-county-following-storm/
Sugar Beach – Kihei Oceanfront
Let's start at Sugar Beach. It's a really cool little enclave of three properties. The Sugar Beach Event Center is here. There originally was an old commercial center. They tore it down and turned it into three lots. There are two single family homes and the event center that all available. They've been just recently sold, but it's really cool properties, old Hawaiiana, plus there's a contemporary home as well in the mix.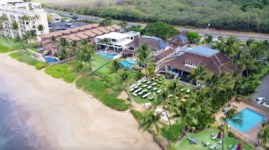 South Kihei Rd – Kihei Oceanfront
Coming up to the 700, 800 block of South Kihei Road. There are a couple more homes that are just little enclaves right up here. There's about four lots that have been built over the course of the last 15, 20 years. One lot is still available. And then one of the lots that's still vacant was bought by the county so that they can keep it as a park and beach access. These homes on this block all have state land in front of them and that state land is about 150 feet, and that's just access to the beach.
These are newer homes, some plantation, some contemporary. What you'll notice in front of these homes is there's a big stretch of state land out in front. So we call it ocean front, but there's really state land in between the homes and the water. People are able to walk out through the pathways out to get to the water.
Uluniu Street
The next section of oceanfront properties is this enclave on Uluniu Street. It's a couple blocks long, and it's a little bit further down in Kihei, heading towards Wailea. (Heading South). It's a little bit more rustic over here. There's some lots. The VFW (Veteran's Center) is down in this area. Across the street, there's some older homes. And then there's also some commercial areas near the Ace Hardware Store and Nalu's restaurant. That's all situated on the other side of the street of Uluniu. Again, there are some older lots and older homes that have been built here on Uluniu that are ocean front, as well as a couple condominium buildings.
Halama Street
As we head down a little further south on South Kihei Road, we get to Halama Street, which is probably one of the oldest beachfront communities in South Kihei. It's off of South Kihei Road. You turn right and that's the start of Halama Street and there's beach accesses down here. And then there's also a bunch of homes. There's old beach houses. There are new beach houses. They've taken old homes and torn them down. And it's just a very eclectic mix. On the other side of the street, they're now starting to build new homes, like the one we just drove by and it's become a really cool place. If you come down on Halama Street, first thing in the morning or the end day, you'll just see tons and tons of people walking up and down, a great sense of community in this area.
Iliili Street
Just past Cove Park is this tiny little street called Iliili. There's a few oceanfront homes right here, along with some other condominiums. The cove is off to the right, where everybody learns how to surf when they come here to visit Maui. There's this little house right on the corner that has been a vacation rental. It just recently sold. And then some condominiums. And then just down the street, a few feet, there's a couple more homes and then another condominium. So it's a little bit of a hodgepodge. And then Maui Beach Place Condominiums. This street sits right on Charlie Young Beach.
Kamaole Beaches
There's several homes right on the beach, right before we get to Kam Beach Park One. And you can see that a lot of, several of these homes are older and then a couple that were built in the early 2000s. And then there's a couple homes here that are vacation rentables, that have been to vacation rental properties for a long time. All right. So now we're just going by the boat ramp. We're just going at the end of South Kihei and we're coming up to
Keawakapu Beach
Keawakapu Beach is right at the beginning of Wailea. You can see Molokai in the distance. It's probably one of the most expensive beaches in the United States, at least in Hawaii. There's some amazing homes; There recently was a sale for 45 million dollars. It's really a spectacular location. There's still old beach homes that are here on the beach. There's homes that were built 20 and 30 years ago that are needing some renovation. And then there are just some absolutely drop dead gorgeous homes that are situated on the beach. Currently they are selling for anywhere from 10 million dollars, for a tear down beach home, to 45 million dollar home that just sold. There's one for sale for about 35 million dollars at the moment, late in 2021.
When looking at these homes, you'll see some beautiful finishes, lots of privacy from the road. And although they're right on the road, they are on the spectacular beach. So just a great variety and probably one of the most desirable places to be in Maui as well as one of the best beaches on the whole island. In fact, when I come to the beach, this is the beach that my family comes to- Keawakapu Beach.
For More Information
For more information about Oceanfront homes in Kihei, or any other Maui Real Estate Questions, reach out to me, Tom Tezak at 808.280.2055 or email tom(at)tomtezak(dotted)com.
Click here to watch the video about Oceanfront homes in Kihei on YouTube: https://youtu.be/EhY7VQZZtw0
Because you read Kihei Oceanfront:
You May Also Enjoy: Living In Kihei | What it's Like