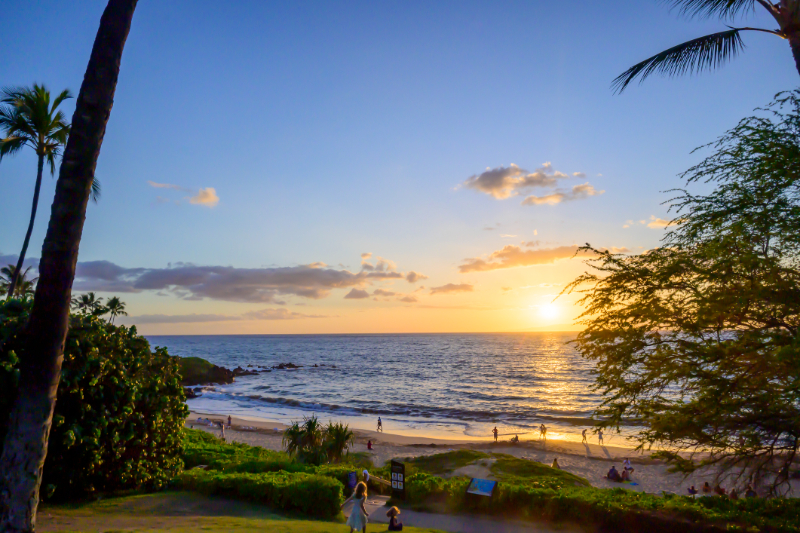 Luxury real estate in Hawaii is always considered the epitome of casual elegance. The appeal of this tropical paradise has not diminished over the years, and it continues to be one of the top vacation destinations for the world's wealthiest.
To make the most out of your investment, one of the most important decisions you have to make is where in The Aloha State to buy luxury homes. One clear answer stands out – the community of Wailea on the south side of Maui
Called the "Beverly Hills of Maui", Wailea is home to some of Hawaii's finest beaches, as well as to top rated golf courses, luxury resort hotels, and gorgeous estates. Homeowners in this exclusive master planned community include A-list "A-List celebrities & world renowned entertainers who enjoy not only Wailea's luxurious recreational opportunities but utmost security and exclusivity as well.
A CLOSER LOOK AT WAILEA
Wailea covers 1,500 acres along the Pacific Ocean, bordered by other luxury resort communities – Kihei to the north, Makena to the south, and Haleakala to the east. This tropical enclave boasts beautiful crescent shaped beaches and some of the most amazing views in all of Hawaii.
There is a great sense of community among the permanent and transient residents that make up Wailea's population of around 6,027. Many have been homeowners for a long time, but during the pandemic, there was a surge in home sales as more people retreated to this resort community to escape crowded cities and live amid pristine beaches and wide open spaces.
While you may probably not want to leave Wailea, the community offers great access to the rest of Maui and beyond. Kahului Airport is only around 35 minutes away, and Lahaina, Maui's unofficial downtown area, is just a 43 minute drive.
Table of Contents:
The beaches and resorts of Wailea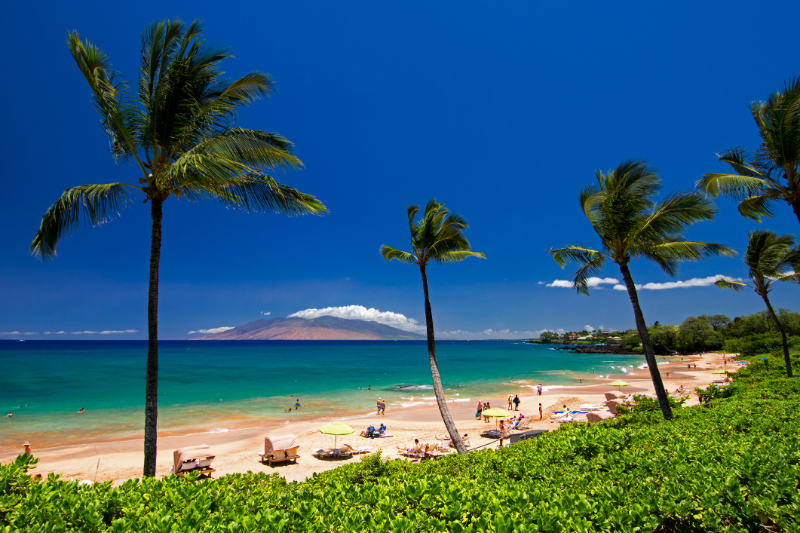 Wailea's beautiful beaches are enough reason to own a home in this sun-drenched haven. On this side of the Pacific, sparkling turquoise waters kiss golden sands, and views of the nearby islands and the Molokini Crater complete the breathtaking scenery. Luxury resorts as well as several restaurants and shops surround the area, providing the complete holiday experience.
The top beaches in Wailea include:
Wailea Beach

The crescent shaped golden sand beach is lined by chairs and umbrellas set up by the grand resorts in the area, which include The Four Seasons, The Grand Wailea, and the Wailea Beach Resort (Marriott). Consistently rated as one of the best beaches in the world, Wailea Beach is perfect for a wide range of water activities, from snorkeling when the water is calm to boogie boarding and body surfing.

The Four Seasons and The Grand Wailea bookend the beach, but in between you'll find other luxurious resorts and accommodations, such as Wailea Beach Villas and Hotel Wailea.

Polo Beach

South of Wailea Beach is Polo Beach, a cove beach that's great for swimming, snorkeling, and other water activities. Polo Beach marks one end of the Wailea Beach Path, a 1.6 mile coastal trail along the beaches of Wailea, considered to be one of the best walking trails in Maui.

The Fairmont Kea Lani hotel and Polo Beach Club (Hyatt) sit on the beach, offering luxurious accommodations and services to guests and visitors.

Ulua Beach

Found north of Wailea Beach, Ulua Beach is another crescent shaped beach that's popular with new divers, thanks to a beginner level diving spot at the outer reef. Ulua Beach is ideal for swimming, boogie boarding, and snorkeling. There's a small park nearby that also makes it a great spot for picnicking.

Ulua Beach fronts Wailea Elua Village, a private resort featuring luxurious condos for rent.

Mokapu Beach

Mokapu Beach adjoins Ulua Beach, with both beaches sharing a parking lot and several amenities. It makes up the other end of the Wailea Beach Path, and also features a small park that's connected to the Ulua Beach Park. Between the two beaches is a reef system that's perfect for beginner and advanced snorkeling. Mokapu Beach is also a great spot for boogie boarding, and with its gently sloping floor, it's also ideal for swimming.

The Andaz Wailea Hotel sits on Mokapu Beach and provides beach chairs and umbrellas for hotel guests.
World-class amenities in Wailea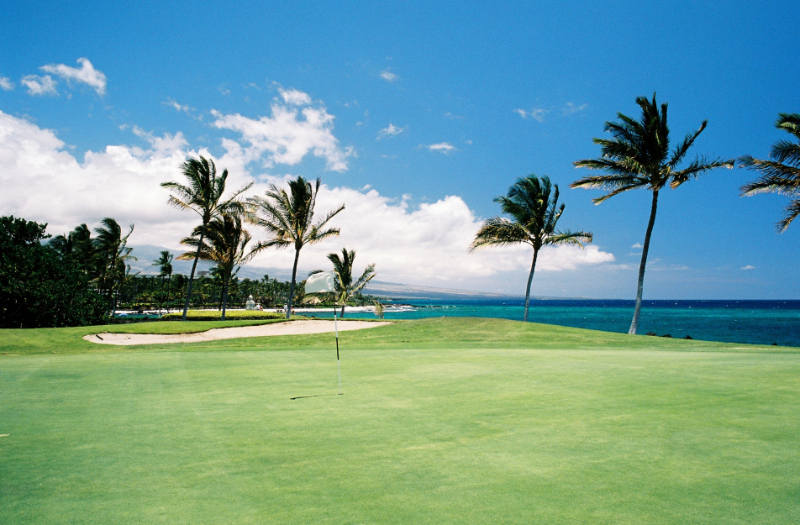 When you're in Wailea, you'll find many more things to do than going to the beach and enjoying water activities. The community offers a host of excellent amenities that truly elevates resort living, as well as outdoor adventures in nearby nature parks.
Wailea Golf Club

Wailea is a golfer's paradise where the golf courses offer views that are just as exhilarating as the game itself. The community boasts three award winning par-72 golf courses that have been constantly hailed as some of the best in the world.

Designed by Robert Trent Jones, Jr., Wailea Gold Course is considered the most difficult of the three courses and once hosted the Champions Skins Game. With its expansive ocean views and landscaped holes, Wailea Emerald Course is noted for its beautiful design. Wailea Blue Course winds through the heart of Wailea and offers amazing views of the surrounding islands and the West Maui Mountains.

Wailea Tennis Club

Wailea's tennis and pickleball facility has been recognized by the United States Tennis Association as one of the most outstanding facilities in the country. It features nine sportsmaster tennis courts and ten permanent pickleball courts, including a center court with a 1000-seat capacity for spectators. The Tennis Club offers year round programs, including tennis and pickleball lessons and friendly competitions.

Topnotch restaurants

In Wailea, you can enjoy a variety of flavors to suit your every fancy. From fun luaus and contemporary Hawaiian fare to the most delectable international cuisines, dining in Wailea is a combination of gastronomic indulgence and a visual feast.

Here's a sampling of what to enjoy:

Lineage Maui Restaurant – This restaurant honors the tradition of family get-togethers with Asian-American cuisine using local ingredients and the distinctive Maui cooking style.

Monkeypod Kitchen by Merriman – This lively oceanfront restaurant boasts a distinctly tropical ambiance, featuring great views, live music, 36 craft brews on tap, and the freshest fish.

Humble Market Kitchin – Located inside the Wailea Beach Resort-Marriott, this restaurant is owned by Roy Yamaguchi who incorporates the flavors he loved growing up in Maui into the restaurant's Euro-Asian cuisine.

Nick's Fishmarket Maui – Maui's premier seafood restaurant, Nick's Fishmarket offers the freshest fish and seafood, along with steaks and fine vintage wines from around the world.

Ka'ana Kitchen – Found inside Andaz Maui at Wailea Resort, Ka'ana Kitchen is perfect for dining with the family or a large group of friends. Serving Hawaiian regional dishes, this restaurant is a must visit if you want to learn about Hawaiian culture through the native food.

Fantastic shopping

In Wailea, luxury shopping is at your fingertips. From outdoor shopping centers to charming boutiques in the many resort hotels in the area, you can shop till you drop in between your island adventures.

The Shops at Wailea is the top place to go for retail therapy. This open air shopping center is home to around 70 shops, including the world's top designer labels like Louis Vuitton, Gucci, Prada, and Tiffany & Co. Some of Wailea's top restaurants and eateries are also found here, such as Lineage, Tommy Bahama, Lappert's Hawaii, and Honolulu Cookie.

Other shopping destinations in Wailea include:

Wailea Village
Also an outdoor shopping center, Wailea Village features art galleries, swimwear and resort wear shops, homeware shops, artisan boutiques, and various services.

Wailea Town Centre
Wailea Town Centre is the place to go for a wide range of services including beauty salons, skincare treatments, spas, real estate services, and more.

Wailea Gateway Center
This cozy shopping center features local finds, health and wellness services, top restaurants, and a number of services.

Grand Wailea shops
The fourth floor of the Grand Wailea resort hosts an exclusive array of retailers that include resort and adventure wear specialists Tommy Bahama and Quicksilver, local brands such as Mohalu Retail Store and Grand Jewels of Wailea, and Makana Gifts with Aloha, which sells Hawaiian made jewelry, shoes, handbags, and more.

Fitness and wellness

Surrounded by amazing natural beauty and vast open spaces, Wailea offers an active lifestyle where fitness and wellness are among residents' top priorities. In addition to endless water activities and walking or running along the beach, you can also get the best pampering and wellness treatments at the luxurious spas housed in the area's five star resorts, such as Maui Spa at Four Seasons Resort and Grand Wailea Resort and Spa.

The nature destinations in the area offer fantastic opportunities for outdoor activities that can rejuvenate both body and spirit. These are just some of the activities you simply have to try:

Drive an hour to Haleakala National Park to experience the famous sunrise or hike through a centuries old sub-tropical rain forest with volcanic landscapes.
Hike or go off-roading along Na Ala Hele trails and explore Maui's raw natural beauty and fascinating historical sites.
Marvel at the dense towering trees as you hike through Polipoli Spring State Recreation Area, just an hour and a half's drive from Wailea.

EXCLUSIVITY AND PRIVACY AT WAILEA'S LUXURY COMMUNITIES

Wailea is composed of exclusive neighborhoods that guarantee privacy and security. If you're looking for a secluded retreat with easy access to the best that the community has to offer, start your search for Wailea luxury homes at these upscale developments:

This 30 acre development sits at the heart of Wailea Blue Golf Course, offering refreshing panoramic views of greens and fairways, as well as the ocean, the West Maui Mountains, and Molokini in the distance. The gated community features 61 homesites with lot sizes ranging from 12,000 to 20,000 square feet, where estate homes ranging from 2,000 to 5,000 square feet in size are built from the ground up.

Every home is equipped with the finest finishes and amenities, including a swimming pool and a spa. Outdoor-indoor living is emphasized with spacious covered lanais separated from indoor living areas by sliding glass doors. Each residence comes with a unique open floor plan with 3 to 5 bedrooms.

The neighborhood is located just steps from Wailea's best attractions, including the Wailea Beach Walkway, The Shops at Wailea, and of course, Wailea Blue Golf Course.

Wailea Pualani Estates

Encompassing 32 acres of prime property close to The Shops at Wailea, the Grand Wailea, Hotel Andaz, and other luxury resorts in the area, Wailea Pualani Estates features 92 luxurious estates with lot sizes ranging from around 10,350 square feet to over 15,000 square feet. The secluded hilltop location offers stunning views of the ocean and the mountains, and the community boasts a 2.5 acre private park for the use of residents.

Homes in Wailea Pualani Estates come with custom architecture in various styles, including Contemporary Plantation, Hawaiian-Mediterranean, and Neo-Classical. Seamless indoor-outdoor living is the norm, with wide patios, swimming pools, Jacuzzis, and barbeque grills completing landscaped outdoor living areas.

Maluhia at Wailea

Maluhia is Hawaiian for "tranquility" and that's exactly what this highly exclusive community provides. Located above Mokapu Beach, the neighborhood offers incredible panoramic views of the ocean, the mountains, and the distant islands.

The only waterfront gated community in Wailea, Maluhia covers only 10 acres, limiting the number of properties to only 14 homes with square footages of between 3,300 and 7,300 square feet. Five of the properties are waterfront and sit on lots that measure almost an acre. The nine non-waterfront properties have lot sizes of at least one-half acre.

Homes in Maluhia at Wailea are categorized as residential condos and residents enjoy all the conveniences of condo living, including concierge services and exclusive amenities such as the residents' beach club. Each home comes with custom features, exquisite furnishings, and its own swimming pool and spa.

Wailea Fairway Estates

Wailea Fairway Estates is Wailea's first gated community, with the first homes here built in the late 1970s. It encompasses 14 acres between the 13th and 14th holes of the Wailea Blue Golf Course, offering tranquility, privacy, and stunning panoramic views afforded by its elevated location on the hillsides of Mokapu Beach Park.

There are 31 homes in this subdivision, with floor areas ranging from 2,400 square feet to 5,000 square feet and lot areas of between 12,000 square feet and 18,000 square feet. The properties come with distinctive architecture, reflecting the fine tastes of residents.

Just steps away from The Shops at Wailea, Wailea Blue Golf Course, Mokapu and Ulua beaches, the Tennis Club, and the five-star resorts in the area, Wailea Fairway Estates truly captures the luxurious tropical lifestyle that the area is known for.

Makena Place

Offering luxury waterfront living in the famous Turtle Town, Makena Place is without a doubt one of the most exclusive neighborhoods in Wailea and the whole of Maui. Only ten waterfront homes make up the community, each with a lot size of 10,000 square feet. Every property comes with distinctive custom architecture and dramatic views of the Maluaka Beach.

A dedicated caretaker lives in the area, ensuring the maintenance and security of the homes even when their owners are away. Residents enjoy a private tennis court and convenient access to the nearby Shops at Wailea, amazing beaches, golf courses, resorts, and the finest amenities that Wailea has to offer – all while assured of utmost privacy and tranquility.

OWN YOUR PIECE OF PARADISE AT BEAUTIFUL WAILEA

With everything it has to offer, Wailea is the perfect place to invest in Hawaii real estate – whether to live in or to add to your portfolio. Explore the luxury homes in Wailea with Tom Tezak and The Lifestyle Maui Team.

Consistently recognized as one of Hawaii's Top 100 Realtors, Tom has sold more than $800 million in Maui real estate, and is the best guide to the amazing Maui lifestyle. Together with his team of experienced and dedicated real estate professionals, Tom can help make your dreams of luxury tropical living in Hawaii a reality.

Call Tom and The Lifestyle Maui Team today at 808.746.3347 or send an email here to find out more.