Maui Buyer's Guide
Here is your Maui Buyer's Guide- your ultimate resource for buying property on Maui. Whether it's a kihei condo, Wailea luxury estate, or residential home, we've got you covered. From home inspections, to moving, there are so many things to consider. Let the Lifestyle Maui Team take care of the stressful part, you take care of the fun part and enjoy buying a Maui property. Be sure to scroll to the bottom of the page, where you can download our buyer's guide as a free E-book or printable PDF.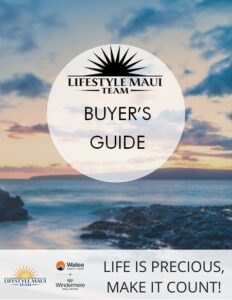 Mission Statement|
We do not just sell real estate…
…our goal is to help you live the Maui Lifestyle.
Our team loves sharing the passion and joy that comes from living on Maui, with our clients. And we understand that purchasing "property" is only one piece of the puzzle. We want to be your expert Maui resource before, during, and after your entire experience relating to living the Maui Lifestyle.
Questions To Consider When Buying Maui Property
It is essential that when starting your search, you understand what you are looking for in your Maui property. With the variety of options on Maui, here are some questions to think about:
Home vs. Condo
Vacation Rental vs. Residential
Is a gated community important to you?
Wailea, Kihei, or Makena? Does it matter?
The number of bedrooms you need vs. Number of bedrooms you wan
Location on island.
Sun, rain, breeze, etc.
The location proximity to essentials like Costco, Target, hospital, airport, etc.
Is an ocean view a must, a bonus, or not necessary?
What is more critical: a Bigger space or closer to the water?
Enough yard or big yard for privacy?
But most importantly…what is your "WHY"? As you read these, hopefully, it makes you think about what is most important and will help you with the decision process. Remember, it is our job to act as your advisors and help you work through this process smoothly, with the end result being your ability to pursue the Maui Lifestyle that you desire.
Financing Vs Cash
Financing
How much house can you afford?
Determining how much you can afford and getting pre-approved before you begin your Maui proper- ty search will save you valuable time and ensure you are ready to move quickly on the right property when you find it.
Using a local lender:
In our market, there are benefits to using a local lender, especially when it comes to financing vacation rentable properties. Loan officers based here on Maui know the ins and outs of funding on vacation rentable properties that not all mainland lenders know about or don't realize until they are already in the loan process.
Unfortunately, we've experienced this firsthand with some of our own deals and heard of others. Buyers use non-local lenders who are licensed in Hawaii and initially say they can loan on vacation rentable properties, only to find out 20-45 days into escrow that it's a lot more involved than they previously thought and their bank can't approve the loan. Those Buyers then have to either cancel the deal or switch lenders and restart the process. This is not always the case, but we recommend using a local lender who understands loaning on vacation rentable properties from the start, giving you the best chance to get to the finish line.
Another benefit of using a local lender is that it can sometimes strengthen your offer in the eyes of the other agent/sellers. An offer with pre- approval from a proven, well-known local lender can appear more substantial and beat out other offers with pre-approval from a mainland bank. *Although we recommend using a local lender – as our client, you can ultimately decide to use whoever you'd like to. It's our job to educate you on the intricacies of our local market, but we never make decisions for you.
Escrow
Watch Video: What is Escrow? https://youtu.be/BnafV2QLryo
Escrow time frame
If you are purchasing via financing, we typically write 30-45 day contracts on residential homes/long term rentable condos, and 60 days for vacation rentable properties. However, this can vary depending on the lender you choose and the timeframe they give us.
When Financing, THOU SHALT NOT
Change jobs, become self-employed, or quit your job.
Buy a car, truck, motorcycle, or van
Omit debts or liabilities from your loan application.
Buy furniture
Use credit cards excessively (more than normal).
Stop paying bills.
Spend money you have set aside for closing.
Change marital status.
Apply for new credit cards.
Make large deposits without checking with your loan officer.
Change bank accounts.
Co-sign on a loan for anyone.
Each of these can jeopardize loan approval. If unsure, call your loan officer and ask before doing any of the above.
Cash
Negotiation benefits
If you can purchase your Maui property with cash, in many cases this can increase your negotiating power. Because the majority of offers in our market are financed offers, cash offers stand out because they eliminate the loan process (which removes a significant contingency from the transaction). As a cash buyer, you are still required to provide proof of funds, usually within three days of an accepted offer. Also, you may need to provide evidence of funds before viewing select properties.
Escrow time frame
Because cash purchases avoid the loan process, escrow times can be made much shorter. We write cash offers with closings anywhere from 14 to 30 days from acceptance. This also can give you extra negotiating power by emphasizing a quick close if this would appeal to the seller.
Walking You Through Inspection
Home inspections are a critical part of the buying process. A neutral third par- ty handling your inspection can help to give an unbiased and professional look at all areas of the home. We will guide you through the Home Inspection process by:
Referring you to a reputable on island home inspector and other repair contractors if needed.
Scheduling the inspection for you and attending for your behalf if you are not on island.
Making sure the home inspection report is delivered to you promptly within the contingency period.
Reviewing the home inspection report results with you.
Negotiating fair and appropriate solutions if necessary.
Scheduling a final re-inspection walk-through before closing if desired.
If there a pool/spa, and aseptic/cesspool, either of these would require an independent inspection as they are not covered in a general home inspection, and we will help you coordinate that.Our goal throughout this contingency period is to make sure you are well in- formed and prepared to make the best decision in moving forward or canceling a deal if necessary.
See Also: Home Inspection FAQs
What To Expect At Closing
Final Walk through 3-4 days before closing
Utilities transferred into your name
Confirm that any negotiated repairs are completed
Arrange your final deposit
It Doesn't End There…
What happens after closing? Good question. It's important for us to share with you that the process and relationship are far from over after we close. If you are purchasing your primary residence/moving here to Maui, we can be a wealth of knowledge in terms of any vendors/services you may need post-closing. And as you know, we always love to share our non-real estate related knowledge and tips as well! Also, as a resort and second home agents, we know that your property away from home is significant to you…and it's really important to us, too!
If you have an emergency, we will look into it and help in any way we can. If you need someone to work on the property, we are happy to give you our opinion or recommendations.
We want you to know that it doesn't end at closing. We often say that closing is where all of our relationship and experience begin to come into play. The Lifestyle Maui Team wants to be your resource here on Maui today, tomorrow, next year, five years later and beyond. Please don't ever think that you can't reach out to us if you need a hand, have any questions, or want an excellent recommendation for a place to eat or a fun activity here on Maui. Helping you is what we do, and our way of spreading Aloha.
Frequently Asked Questions
View our playlist on YouTube where we answer Frequently Asked Questions about Maui real Estate: https://youtube.com/playlist?list=PL70Yc4b7ErwLrXe9Fl17mKRd553MpPMbx
Moving Tips
MOVING DAY: OLD HOME
Pick up the truck as early as possible if you are moving yourself.
Make a list of every item and box loaded on the truck
Let the mover know how to reach you
Double-check closets, cupboards, attic, basement and garage for any left behind items
MOVING DAY: NEW HOME
Be on hand at new home to answer questions and give instructions to the mover
Check off boxes and items as they come off the truck
Install new locks
Confirm that the utilities have been turned on and are ready for use
Unpack your "first day" box (see list for suggested contents)
Unpack children's toys and find a safe place for them to play
MOVING ESSENTIALS:
Furniture pads, hand truck or dolly, packing tape, bubble wrap, newspapers or packing paper, scissors, utility knife, labels, felt-tip markers, cornstarch packing peanuts, plenty of boxes.
FIRST DAY ESSENTIALS:
Scissors, utility knife, local phone book, coffee cups, teakettle, instant coffee or tea, pencil and paper, soap, bath towels, trash bags, shelf liner, paper plates, snacks, toilet paper, children's toys
Here is the link to download the digital E-book: MAUI Buyer's Guide