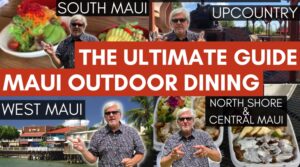 The Ultimate Guide To Maui Outdoor Dining
Here are some dining options that offer outdoor seating in the different regions of Maui. The regions we will talk about are: South Maui, West Maui, North Shore/Central Maui, and Upcountry Maui.
South Maui Outdoor Dining
These are South Maui's restaurants that offer outside seating, let's find out where they are! Let's start in Wailea at the Shops of Wailea:
1. Pint 'N Cork
Pint 'N Cork just created a really neat little outdoor area on the sidewalk right outside of the restaurant. If you go there, check out their Warm Mushroom Salad [stock may vary]. Oh man, it rocks!
2. Tommy Bahama's
Great outdoor seating area, great little restaurant, really wonderful food. It's one of my go-to places and my favorite there, the ribs, really hard to beat!
3. Waikiki Brewing Company
In the Shops at Wailea; it used to be "Cheeseburger in Paradise", and they just changed companies and brands. It's now the Waikiki Brewing Company, so they've got some nice outdoor seating.
4. Longhi's Wailea
Another great restaurant. Italian, (great!) one of my favorite places. The flooring is all black and white tile, it looks very bistro-esque, so check that one out.
Remember, you want to check with these places to make sure if you've got restrictions on what you can and can't do outside, to make sure that you'll fit into their guidelines, etc. .
5. Mateos
Mateos has only a couple outdoor seating locations. You probably need to call them, make reservations, request the outdoor table. But quite honestly, one of the best Italian meals you'll have on the entire island! They absolutely rock. Chef Mateo is just absolutely a master. If you haven't been there, be sure to check it out!
6. Manoli's
Beautiful outdoor seating area, right out by the golf course, great views, great place to go grab a drink, grab a pizza, another great opportunity right in Wailea.
7. Nalu's
Up in the Azeka Plaza. They've got some really nice outdoor tables there. Great food; chicken and waffles for breakfast, just stellar. And they've got a great couple hamburgers that are just to die for!
8. Coconut's Fish Café
They've got two restaurants; one in Azeka, where they basically just put tables outside, there's some in the parking lot, and it's a pretty neat spot. You call in your order, pick it up, and you're ready to go. Their South Kihei location is up right where the Denny's used to be, and I know that people sit up on those tables that are in front of where the Denny's was at too. You want to again, check with them and make sure that that's okay.
9. Fork N Salad
I just ate at Fork N Salad the other day. They make a really nice salad. Put on it what you want, pick your dressing, pick what kind of greens you want, what kind of protein, great option, Fork N Salad. They're also in Azeka Plaza.
10. Maui Brew Co.
They probably have one of the nicest outdoor setups of any place on the island. You walk in, you can order your food, or you can go to the outdoor stations and order. They have tables with numbers, and it's just a great place to hang out! The other cool thing about Maui Brew Co.; they've got live entertainment. Every night at Maui Brew Co. is a great spot to just go and chill, hang out, enjoy a beer, enjoy a seltzer, and enjoy a pizza or your favorite sandwich. And they got some really great calamari there too!
11. 5 Palms
Right down on Keawakapu Beach. It's a really spectacular location! The views are amazing. The setting is just perfect. I'd definitely recommend 5 Palms, when you want to go someplace and just have a beautiful oceanside setting!
12. Kihei Food Trucks
There's a lot of food truck courts around the island now. There's one behind Azeka Plaza. They've got tables. Wing Kings is in there. There's a barbecue place in there, "Da Nani Pirates". There's some great stuff there. And then there's a couple other food trucks, Outrigger Pizza over in the Kukui Mall. Not all of them have seating, but the one behind Azeka Mall; they do have a seating area and it's pretty cool.
13. Fabiani's
Great outdoor seating area, great thin crust Italian pizza, great pastas and everything else.
There's some great options for you to go if you're looking to be dining outside in Kihei, Wailea, and Makena.
West Maui Outdoor Dining
There's some great options for West Maui outdoor dining. Let's start with Lahaina! So there's a couple of great restaurants in Lahaina that have open air seating, and just really fun little spots.
1. Down The Hatch
That's a really cool place right in downtown or in the Front Street area, and real close to that is Cool Cats. Another place, I have to say, I've not been to Cool Cats, but my assistant Michelle goes there and she absolutely loves it. So check those places out, if you're downtown on Front Street and see what you think. When you're watching these videos, we'd love your comments. If you could tell us what you think about them, that'd be so appreciated.
2. Mala Tavern
Mala Tavern sits right on the ocean. It feels like you're actually almost in the water when you're sitting there eating great food, fun, different items on the menu. Definitely worth checking out. Definitely, you're going to need reservations for there as well.
3. Leilani's on the Beach.
Great little open air spot. Definitely some great food, and you can just watch the world of Maui as it goes by and have your lunch or dinner.
4. Monkeypod
In Whaler's Village. Now, there's a Monkeypod here in Maui on the south side as well, they have some outdoor seating there, but also in the Whaler, they have some great outdoor seating as well. Great place to go, and I'm not a Mai Tai fan, but I got to tell you what everybody raves about the Monkeypod Mai Tai, so be sure to go there and check them out.
5. Fleetwoods
Fleetwoods is right on front street, up on the roof, open air restaurant on top of the building. Really a great place, live entertainment, definitely a place worth checking out.
6. Sea House
Sea House Restaurant has got some great outdoor dining. Great spot to go hang out with your family, with your kids and just have a great meal outside. A little bit further down from there in Napili is Merriman's on the point. Really spectacular, amazing food, amazing location with spectacular ocean views, definitely worth checking out. Again, another place you'll definitely need reservations, and you'll want to make sure that you let them know that you want to be outside.
Central and North Shore
Dining outside on Maui on the Central, North Shore, and Haiku area.
Paia:
1. Milagros
Right there on the corner of Baldwin and Hana highway. Cute little spot, they've got several outdoors tables and just a fun spot. Spanish food, great stuff. Always have had great meals there.
2. Mama's Fish House.
I mean really, how can you go wrong with Mama's Fish House? It's the most notorious high-end luxury restaurant in all of Maui and it is fabulous. You know, my family and I go there every year for Christmas and we'll be there this Christmas Eve again… this year, Christmas Eve again. But great food, definitely need reservations. You'll probably have to stipulate that you want outside dining when you're over there to make sure that they can accommodate you and just enjoy. It's a pretty spectacular spot.
3. Vana
So Vana is a place that I haven't been to, but it sounds like a great spot. It's a sushi restaurant. Let us know if you've been there, put a comment in down below and tell us what you think.
4. Cafe des Amis.
Just was there a couple of weeks ago. It was my last meal with my daughter before she left for going to Europe. And it was so good. We sat right on the edge of the tables, watching everybody walk around. It's a cute little spot. Limited hours, they're open a little bit later in the afternoon, like around one o'clock or 1:30, and then go till eight. But definitely worth checking out. Crepes and some really fun food, some different menu items than your standard American fare.
5. Maui Taco Loco
In Paia, it's close to Kahului. There's a two-acre farm, a food truck, lawn games, picnic tables. Again, another place I have never been to it, but it sounds like fun. So if you've been there, tell us what you think.
Haiku:
6. All Kine Maui Grindz.
Local style Mixed plates. Great food and some outdoor tables.
7. Mediterranean Grill.
They kill it for the gyros. I really love going there. Whenever I'm over on Haiku side, I always try to pull in and grab myself a gyro because it's one of my favorite foods of all time.
Kahului:
8. Kahului Food Trucks.
There's several outdoor food courts. Right by Costco, there's two food truck areas, both have tables and sitting areas and places to hang out. They've done a really nice job with the food trucks. There's probably 12 or 15 different food trucks. It's a great place when you're going out with picky eaters or people who want different things. You can just go hang out, grab a quick bite, sit down together and be outside.
9. Bistro Cassanova
This is an Italian Restaurant, great food. It has a couple of outdoor tables. Again, those are, you probably want to call and reserve those, because there's not a lot of them, but it's another alternative for outside dining when you're over in central Maui.
Upcountry Maui Outdoor Dining
1. Cafe at The Point
It's really this cool spot up in Kula at the Ocean Vodka Distillery and it was so much fun. I spent some time with my family going up there couple of weeks ago, and it's really cool. You walk in, you order at the counter, and they give you a buzzer. There's this giant field that's got these amazing views, and they have a bunch of chairs and some tables. Feel free to just grab a chair and walk out and put it wherever you want. There are spectacular ocean views; It's a great sunset location, and it was just so much fun to go hang out up there. Tons of space, tons of open area. So definitely check out Cafe at The Point in Kula at the Ocean Vodka Distillery.
2. Kula Lodge.
A lot of people go to the Kula Lodge and stop in there to grab some food when they're going to Haleakala Crater. It's right on the way, beautiful spot, some great food. So Kula Lodge is another place that will have outdoor dining.
And I encourage you to check with these restaurants if you're required to eat outside. Check with the restaurants and make sure, see if you need reservations, make sure that they have a policy for the outdoor dining, if that's important for you.
3. Freshies
Freshies in Makawao; This is one I haven't been to, so I need your help. If you've been here, please leave a comment and let us know what you think of it. They have breakfast and lunch from 7:00 AM to 3:00 PM. So give us some insight, share what you know about it. We'd love to hear.
4. Mahalo Aleworks.
It's brand new restaurant and brewery in Pukalani/Kula. It's sort of right in between, and it's in where the Longs Plaza is in that general area upcountry. They've got a bunch of beer on tap, they're brewing it here on Maui. They've got a downstairs and upstairs, and then upstairs and downstairs, they have a bunch of outdoor seating, just a fun spot. I went there with my buddy and we realized we might not have been hip enough to be hanging out at the Mahalo Aleworks, but they did let us in, which was really cool. They have nice food. They have some food there, and then you can also buy pizza at their pizza restaurant that we're going to talk about in a second next door, and they let you bring it in and eat it at the bar.
5. Restaurant Marlow.
It's a wood-fired pizza restaurant, and they just opened up as well. Recently, I went there with a friend. We went to Mahalo Aleworks, grabbed a beer and then walked next door. You can't take your beer with you, unfortunately, so be sure to time it right. And we went next door to the Restaurant Marlowe, had an amazing wood-fired pizza. You can taste the difference in a wood-fired pizza. They have a handful of outdoor tables, most of them are inside. I recommend calling to make reservations, but definitely head up to Pukalani, Kula and check out these restaurants. I think you'll be so happy.
Check Out The Video Series:
Aloha from Maui!
So those are some options for Maui Outdoor Dining. I hope this helps.My name's Tom Tezak, and I hope you have an amazing day and remember, if you live your life with Aloha, your life will be amazing. Oh, and I happen to sell real estate too. If I can help you with any of that, don't hesitate to give me a call at 808.280.2055, or shoot me a text, or send me an email Tom at tom(at)tomtezak(dotted)com. Link to our channel: Lifestyle Maui – YouTube