I want to share with you our new listing: Maui Sunset unit B303. This is a great Kihei Condo.
About Maui Sunset
Maui Sunset is right on South Kihei Road. It's basically a two-sided building, there's another, exactly the same building on either side of the center court. There is a front office where you would come in when you're renting a room or checking in. Maui Sunset is known among guests for its seamless experience. The buildings are all concrete construction, all CMU block walls. And then they've got this amazing seashore paspalum grass that is just gorgeous, people often wonder whether it is real grass.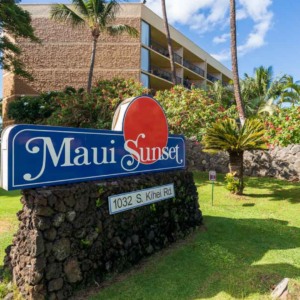 Amenities
There is a little putting green area, grills, board/kayak storage, a fitness center, pool, concierge, tennis courts, pickle ball, shuffleboard, and a huge field, all situated right behind this gorgeous beach. They put the pools up on the front which is really cool so you get this beautiful ocean view. There's a hot tub right off to the side of the pool and then a little concierge station, where you can get the shuffleboard sticks. So some fun stuff to do. And the weather is just absolutely perfect here on Maui, almost every day, especially in South Kihei or South Maui where we're at.
The ocean front lawn is actually state land. It's really interesting the way these properties are set up here in different parts of the island of Maui that there's state land in front of the complexes. The lawn out here is all beautifully maintained like the rest of the property. They've even got their Maui Sunset sign in the lawn. It is taken care of by the condominium association, even though it is state land and the state allows that to happen. There is a great tree for climbing. Also, people bring their pets and their dogs to run up and down the beach. Now, you would not be allowed to bring your pets to Maui Sunset, but the lawn is a public parking area. And so people come and utilize the space to just enjoy the Maui Ocean Park.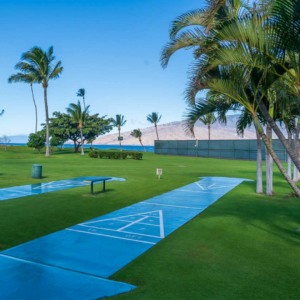 Inside Maui Sunset Unit B303
The building does have elevators and our listing is on the 3rd floor in the B building. The A building is the one on the north side of the property. And you can see as you're walking up beautiful views of Haleakala from your back space.
As you walk in, you've got a storage unit or a storage closet right here to the right. This is for the guest, but you can make this an owner's locker if you wanted to. It's just a nice-sized little owner's closet, if you need. And then as you walk in, to the right is the bedroom. They've redone this, they've got plantation shutters, all new six panel doors, new vanity that they put in and then a really cute little refinished bathroom shower area.
Then, there's a second bathroom and a full shower, which is really great. So that if somebody is here staying on the pull out couch, you can accommodate up to four people. That bathroom will suffice for those guests. There's a nice open space here. There probably originally were cabinets that hung down from the soffit when this was originally built, but a lot of people have now removed those cabinets and opened up this space which is more appreciated by the folks that are staying in the unit cause it has a much more open feeling, but a nice little kitchen, a great space right here, beautiful luxury vinyl plank floors. Another feature, Not all units in Maui condos have in-unit laundry, but this one does.
Lanai
The lanai is nice and spacious. There's enough room to put a nice size table with four chairs. And then when you come out you've got a little bit of an ocean view, but it's so pretty just to even be able to watch or look out at the green belt out here that's just so precious when it comes to open space here in Maui, you've got a little fountain right out front of the door and a nice tile floor.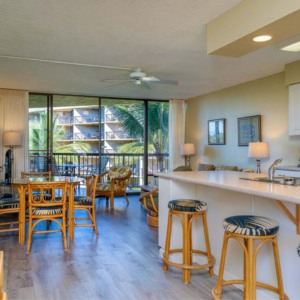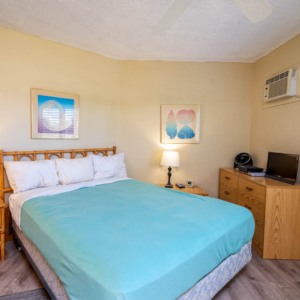 Other Features
I want to point out a couple of the other really cool benefits about this particular property, Maui Sunset. Some neat features that they have here, that you won't find at all the other properties; they have after hours security, they have kayak and paddle board storage on property, they have a front desk where it's a really seamless and it's a really nice check-in process so if you're renting it, your guests will really appreciate that. There's also at the pool, and a concierge/activity planner so they'll help your guest find things to do and get situated on all of that too.
So those are some other really neat parts about this property are those things that make your guest experience just a little bit nicer and when your guest experience is a little bit nicer if you're renting it, that translates into a little bit higher rent and revenue when you're doing a Vrbo or an Airbnb.
For more Information
This unit is B303 and we've just listed it. If you'd like more information or you'd like a private tour of this property to get a better feel for it. Or you'd like to get on a zoom call and chat about it while I'm inside of the unit, just let me know. You can reach out to me tom(at)tomtezak(dotted)com or 808.280.2055.
Just shoot me a text and give me a call, I'd be happy to guide you through this and tell you about the rental possibilities and give you more information about this unit and what's been done to it through the renovation and over the course of time. This owner has owned it for quite a long while. He's owned several units in Maui Sunset, absolutely loves the property, but it's just become time for him to sell it and go on with some other things. So I'd love to be your guide here on Maui.
This isn't the right property, but you're thinking it's time to buy in Maui, again, just reach out to me and I'll be happy to help you with that as well. So I hope you enjoyed our tour of Maui Sunset B303. It's a 680 plus square foot unit, one bedroom, two baths. It's just a great property, great location, and a great opportunity to own your piece of paradise. Please reach out to me if I can be a resource for you, I'd love to be your guide in buying your Maui real estate. Aloha from Maui. Remember, if you live your life with Aloha, your life will be amazing.
You May also Enjoy: Kamaole Sands | Explore Maui Neighborhoods