Moana Estates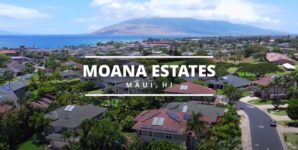 Moana Estates is a beautifully designed development in Kihei Maui. It's 90 home sites, about 1,800 square feet to2,600 square feet, including one and two-story homes. Some of them have spectacular ocean views. Just beautifully finished throughout, great floor plans. This is a pretty established neighborhood, a lot of mature landscaping, a lot of single-level homes, and then a bunch of two-story homes with big lanais, gracious space, three, four, five-bedroom homes. Let's take a deep dive into the neighborhood.
Floor Plans
There are six or seven floor plans. They all range from about 1,600 square feet to 2,500-plus square feet. There are some smaller houses that they built in2013-14 when the market started to recover up on the back of the development, but the entire subdivision is now built out and there's nothing currently available in the neighborhood to build on.
Two Story Homes
Homes in this neighborhood start around just over 1,600 square feet and they go up to just over 2,500 square feet on the two stories. Some of the two-story homes have the lanais on the front and some of the two-story homes have their lanais on the back, so just depends on where the home is situated and how it's oriented, what makes the most sense.
90 homes in the subdivision. All of the homes are built up. They started building this development in the early 2000s, then they took a pause when the market softened up, and then finished building them. Now, when you look through the neighborhood, you can go straight up to Kulanihako'i, or you can cut to the right, and it's just a nice little, beautifully maintained subdivision. You can see everybody takes care of their homes, and it's just a beautiful location.
Features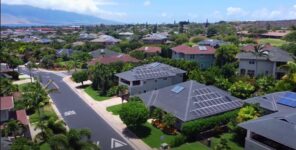 A great feature of Moana Estates is right on the bottom of the complex, all of the homes that back into a great park. You can also access it from the bottom road or from inside the subdivision. A lot of people will come out and use it for their dogs and kids to play. It adds to the family nature of this development, and that gives everybody a place to go out and hang out. Really beautifully designed, beautiful landscaping. Super pride of ownership in this neighborhood, which is one of the things I love.
Location
Right outside of the lower exit to this neighborhood are the Kamaole Beach Parks I, II, & III. Great place to walk, to go out and paddleboard, just hang out on the beach. Some great restaurants up and down South Kihei Road. Up at the top is the highway just a little bit behind the neighborhood, so great, easy access in and out of Kihei, over to Wailea. You will be able to drive to all the restaurants that you want. You can definitely walk to some restaurants. Some food trucks are around here, as well. It's just one of those perfect neighborhoods in south Maui, a great place to call home.
Residents and Association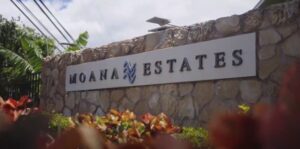 There are a lot of full-time residents in Moana Estates. There are also some second homeowners in this neighborhood. We've got a great association that maintains the property, makes sure that the properties are being taken care of, so it retains the value and keeps the property in great shape overall. This association has been well run and it's well-managed.
Want to Learn More?
Moana Estates, again, great neighborhood, great property, great homes, great opportunity. If you want more information about  Moana Estates Maui, feel free to reach out to me. I'd love to be your resource. I've sold a bunch of homes in Moana Estates, and I sold a bunch here because I really, really love this neighborhood. Please feel free to call, text, or email.
For a more in depth look at the neighborhood, check out my episode of Condos, Castles, & Cottages on this neighborhood on my YouTube: https://youtu.be/ZZ6Jvxa_CJw
Tom Tezak
808.280.2055
tom(at)tomtezak(dotted)com
See also: What it's like Living in Kihei | Tom Tezak, Maui Realtor