The Palms at Wailea is a condominium development in Wailea on Maui, Hawaii.
There are 150 total units in the Palms at Wailea. They're all concrete construction, really large lanais, tons of available parking as well. One of the great features of Palms at Wailea that they do allow vacation rentals.
Floor Plans
In Palms at Wailea, there's five floor plans. There's three that cover the entire complex and there's two wild cards that were originally built when this development was first built.
There are one bedroom units that are 1,022 square feet, and two bedroom units that come in two different floor plans, the B and the C. The B is about 1,194 square feet. And the C's are 1,250 square feet or 1,299 square feet. The upstairs C floor plans pick up another 50 square feet because of a pushed out window that they have.
Features
They all have windows on almost all sides of the unit, which make them the most unique condominiums in Wailea and in Maui. They give a sense of open and airy feel. There's no noise transfer through the floors to speak of because they're all poured concrete, large lanais and the cool thing about this development is that you can have barbecue grills out on the lanais.
Confusion
There is one point of confusion that I'd like to mention. There is a subdivision next door called Wailea Palms. It was formerly known as Palms at Wailea Phase II and there was so much confusion because that development does not allow vacation rentals and Palms at Wailea does. So, they changed the name to Wailea Palms.
More Info
If you would like more information about this amazing vacation rental property, where you can Airbnb or a vacation rent your unit, just reach out to me. I can tell you so much about this complex. It is one of my favorite complexes. I've sold more units in this neighborhood than most any other agent in the world, so I do know this property intimately well. I would love to be your Maui resource.
Be sure to check out my video tour of this neighborhood on Youtube: https://youtu.be/7PrnrG4ZG_w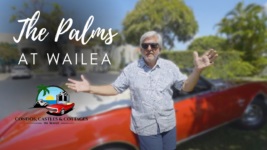 Tom Tezak, Maui Realtor
[email protected] | 808.280.2055
You May also enjoy: Mana Kai | Explore Maui Neighborhoods