Be sure to check out our Condos, Castles, & Cottages episode featuring the Royal Mauian. This Kihei Condo sits right on the ocean. Click the video above or use this link: https://youtu.be/mlvzySLUPR8
Royal Mauian Overview
Today's featured neighborhood is the Royal Mauian. It's a really cool building built in the early '70s, that's six stories tall. Most every unit faces out to the ocean and it is ocean front. They're one, and two, and three bedroom units. And there's 107 units in the complex.
Construction
Royal Mauian is older. It's concrete. It's not real big, but the location is just spectacular. It does have an elevator, so easy access to the different floors. And the best part about this property is up on the roof. There's this most cool rooftop deck, barbecue grills, gathering area. It's an amazing place to go and watch sunset. So, if you're thinking you want to be on the ocean in Kihei, this is a great spot.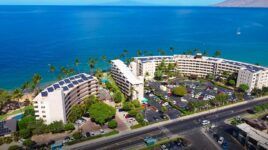 Location
The location here is spectacular. It's situated in between Kamaole Beach Park One and Kamaole Beach Park Two. So, You can go to either beach. It's really pretty slick. Additionally, right across the street, there's a bunch of restaurants and shops. Very close to the famous South Kihei Road. Great walkability, great place to go and hang out when you're here in Maui.
For More Information
If you want more information about this property, please feel free to reach out to me. Send me a text, give me a call, 808.280.2055. Or send me an email tom(at)tomtezak(dotted)com. I'd love to be able to help you out with this property or any other properties here on Maui. And remember, if you live your life with aloha, your life will be amazing. Aloha guys.