Wailea Golf Club presents the most expansive, prestigious golf course greens and golf lifestyle amenities on the island of Maui.  Golf Club real estate here presents some of the most exclusive, high demand options in Maui homes for sale. In fact, Wailea Golf Club homes for sale make up much of the attraction for vacationers, 2nd home and permanent home buyers on Maui.
Wailea Golf Club Homes for Sale and Lifestyle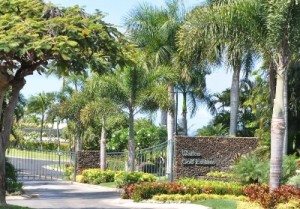 The golf club spans a huge area parallel to the coast and extending throughout the inland edge of much of Wailea, to Makena. Magnificent golf course greens, lush natural settings and ocean views lead the line up to its acclaim. It includes Wailea Old Blue, Gold and Emerald golf courses. Residential and resort areas hug its northern edge and southern tip. In fact, Wailea Golf Club homes for sale to the south appear amid Makena real estate.
Wailea Golf Estates appears as an exclusive subdivision with luxury homes for sale at the north end of the golf club. Its location, nestled by the 4th and 16th fairways of Wailea Blue Course, gives the subdivision an atmosphere fit for a king.  As a result, it has considerably exclusive features in high-demand Wailea homes for sale. About 61 posh homes make up this affluent, gated community on about 30 acres, in the heart of premier golf country, and coastal, island bliss. Home sizes vary, from in excess of 2,200 to 4,500 livable sq. ft. Generous lot sizes and discerning price points come with Wailea Golf Club real estate in the subdivision, where location rates as one of the best in Hawaii.
Wailea Fairway Estates appears as another, exclusive, gated community, enhanced immeasurably by the presence of the golf club. It occupies an idyllic location further north of Wailea Golf Estates and aligns beautifully with the 13th and 14th fairways of Old Blue Golf Course. It hosts about 31 homes spread out on about 14 acres, also snuggled quite close to pristine beaches and sparkling water. Homes for sale in Wailea Golf Club at Fairway Estates come complete with elegant, spacious floor plans and generous, impeccably manicured lots. Added amenities include custom pools, and conveniences await just a short drive away in Shops at Wailea.
With the uncrowded beaches at Mokapu and Ulua just footsteps away, endlessly gorgeous views of the coast just a glance away, and Maui's premier golf course in the back yard, those interested owe it to themselves to inquire about Wailea Fairway Estates, Wailea Golf Estates and other homes in the golf club today.