What is a "VMA"
Here is the visual market analysis map for Polo Beach in Wailea-Makena, Maui updated August 16, 2021. This is a great tool for estimating the value of your property. It shows what Polo Beach condos are for sale, pending, and recently sold. If you are wondering "how much is my condo worth?" or if you would like more information on this neighborhood, or any other on Maui feel free to call/text Tom Tezak at 808.280.2055 or email tom(at)tomtezak(dotted)com. You can also find a lot of additional information about Maui Real Estate for sale as well as other Maui activities on my Web site – www.tomtezak.com.
About Polo Beach
This is an Oceanfront Condominium Complex consisting of 71 Two-Bedroom units. The buildings are 8 stories and have underground parking. A lot of people think it's part of Wailea, but in fact, it's part of Makena. This complex is really cool. It's one of the older buildings here in Maui. It was built before everything else in Wailea was built. And there's a really cool picture downstairs of just the Polo Beach Club on this amazing beach, and nothing else. So it definitely is one of our original properties. All concrete construction, amazingly well built. It's eight stories tall. There's 71 units in the complex, and they range from just about 1,180 square feet to 1,350 square feet. All two bedrooms, two baths, several of them have been amazingly renovated.
Visual Market Analysis
On the Visual Market Analysis, The Red boxes show units that have sold. Blur boxes would represent Pending units and Green boxes would represent Active Listings.
In this month's report there are 0 active, 0 pending, and 5 sold listings.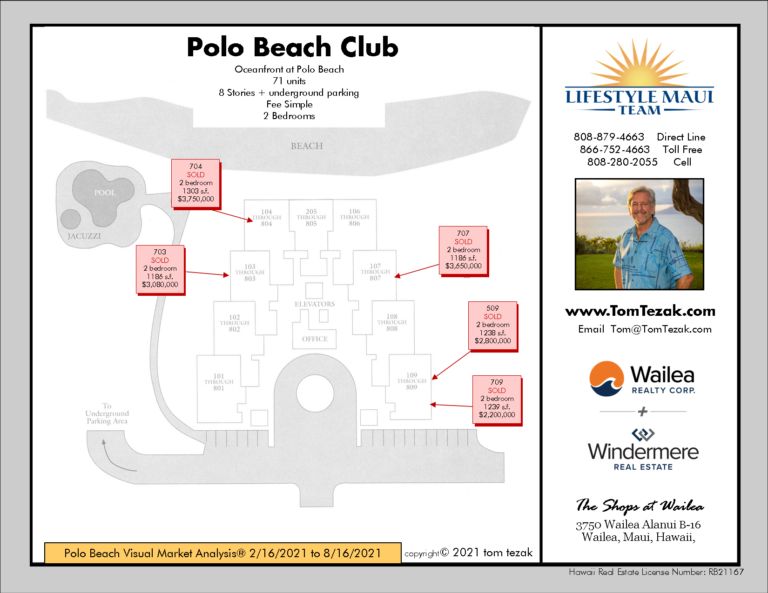 Polo Beach Map/ Visual Market Analysis (PDF file for Download or Printing)
Learn More: Polo Beach | Explore Maui Neighborhoods – Tom Tezak, Maui Realtor
Watch the Neighborhood Tour: https://youtu.be/f-nqe8NCTxk